LOCALLY HATCHED BABY DUCKLINGS IN BURLINGTON, NC!
BEFORE WE EVER START TALKING ABOUT MY BABY DUCKLINGS! PLEASE CHECK OUT THESE LINKS TO SEE SOME OF THE REASONS I LOVE DUCKS AND ESPECIALLY HOW MUCH HEALTHIER THE EGGS ARE. CLICK HERE AND HERE.
I HAVE KHAKI CAMPBELL AND PEKIN DUCKS. KHAKIS ARE BETTER LAYERS (THEY LAY ABOUT 320 EGGS PER YEAR) AND STILL OFFER A GOOD SIZED MEAT BIRD. THE PEKINS ARE A BIGGER BIRD BY A COUPLE OF POUNDS AND DON'T LAY QUIET AS MANY EGGS (ONLY ABOUT 150 PER YEAR), SO THE QUESTION IS WHICH DO YOU WANT? LET'S FIND OUT!
THERE ARE MANY OTHER DUCK BREEDS BUT THESE ARE THE TWO WE CHOOSE TO HATCH AND KEEP AT  OUR LITTLE HOBBY FARM AND HATCHERY.
KHAKI CAMPBELL BABY DUCKLINGS HATCHED LOCALLY IN BURLINGTON, NC!!!
OKAY, LET'S TALK ABOUT THE BABY DUCKLINGS I HATCH AND RAISE HERE IN BURLINGTON, NC! FIRST, THE KHAKI CAMPBELL AND IN MY OPINION THEY ARE THE BEST ALL AROUND DUCK TO HAVE, BUT I RAISE THEM FOR EGGS.
KHAKI CAMPBELL BABY DUCKLINGS AND MATURE DUCKS ARE VERY FRIENDLY, LAY ABOUT 325 EGGS PER YEAR AND WILL LAY LIKE THAT FOR 3-4 YEARS. 
KHAKI CAMPBELL EGGS ARE NOT MUCH LARGER THAN A CHICKEN EGG. THE LARGER DUCK EGGS THAT PEOPLE THINK OF ARE USUALLY FROM PEKING DUCKS.
MOST PEOPLE THINK THEY NEED A POND FOR DUCKS (ANY BREED) BUT DUCKS DON'T NEED A LOT OF WATER, A KID'S SWIMMING POOL SUITS THEM FINE. DUCKS ONLY NEED TO BE ABLE TO GET THEIR HEADS UNDERWATER TO WASH OUT THEIR NOSTRILS WHICH ARE ON TOP OF THEIR BEAKS AND THAT'S ALL THE WATER THEY NEED.
HERE ARE THE SPECIFICS OF THE BREED CLICK HERE. 
PEKIN DUCKLINGS HATCHED LOCALLY IN BURLINGTON, NC.
AT OLD BIDDY HATCHERY, WHICH IS OUR FAMILY FARM HATCHERY, WE ALSO HATCH PEKIN DUCKLINGS. THIS IS OUR CHOICE FOR MEAT DUCKS AND THEY WILL LAY SEVERAL EGGS PER YEAR FOR YOU TOO.
PEKIN EGGS ARE LARGER THAN KHAKI EGGS BUT THEY DON'T LAY AS MANY PER YEAR.
HERE IS THE SPECIFICS FOR THEM CLICK HERE.
FREE RANGING DUCKS FROM BABY DUCKLINGS TO ADULT!!!
KHAKI CAMPBELL BABY DUCKLINGS WILL REACH MATURITY AND START LAYING ABOUT 24-30 WEEKS OLD. LOTS OF PEOPLE CLAIM 18-24 WEEKS BUT I THINK THAT IS IN IDEAL CONDITIONS. IT'S ALSO WITH ALL THE SPECIALLY FORMULATED FEED IN THE COMMERCIAL LAYING HOUSES.
WE START OUR BABY DUCKLINGS ON 22% PROTEIN STARTER FEED FOR THE FIRST FEW WEEKS. AT ABOUT 10-12 WEEKS WE DROP TO A 16% PROTEIN FEED THEN AT 18 WEEKS WE SWITCH TO LATER PELLETS. I PREFER PELLETS TO CRUMBLES BECAUSE THEY DON'T SEAM TO WASTE AS MUCH.
ALSO WE FREE RANGE OUR DUCKS FROM BABY DUCKLINGS IN A SMALL CHICKEN TRACTOR I MOVE AROUND THE YARD. I DO THIS TILL THEY ARE OLD ENOUGH TO JOIN THE MAIN FLOCK, WHICH IS WHEN THEY START TO FEATHER OUT GOOD. MY MAIN FLOCK FREE RANGES DAILY AND UNDER THESE CONDITIONS THEY USUALLY START TO LAY IN ABOUT 24-30 WEEKS.
IF YOU CHOOSE TO FREE RANGE BABY DUCKLINGS REMEMBER THEY CAN'T STAND COLD TEMPERATURES FOR THE FIRST COUPLE OF MONTHS SO PUT THEM OUTSIDE ON WARM SUNNY DAYS AND PUT THEM IN THE SUN WHERE THERE ISN'T MUCH WIND…LIKE THE SUNNY SIDE OF A SHED.
 BABY DUCKLINGS LOVE GRASS BUT REALLY LOVE WEEDS AND CLOVER SO THEY ARE GREAT FOR THE LAWN…AND THEY FERTILIZE IT AS THEY GO!
LIKE I SAID I FREE RANGE ALL MY OLDER FLOCK AND MY LAWN HAS VERY FEW WEEDS!
FREE RANGE BABY DUCKLINGS AND DUCKS ARE GREAT PEST CONTROL!!!
THE OTHER THING I LIKE ABOUT OUR BABY DUCKLINGS IS THAT THE EAT FLIES AND OTHER BUGS. AFTER THEY GROW UP THEY WILL EAT ALL KINDS OF INSECTS INCLUDING JAPANESE BEETLES, STINK BUGS, MOSQUITOES, TICKS AND BEES OR WASP. THEY ALSO EAT SLUGS, HORN WORMS AND GRUBS.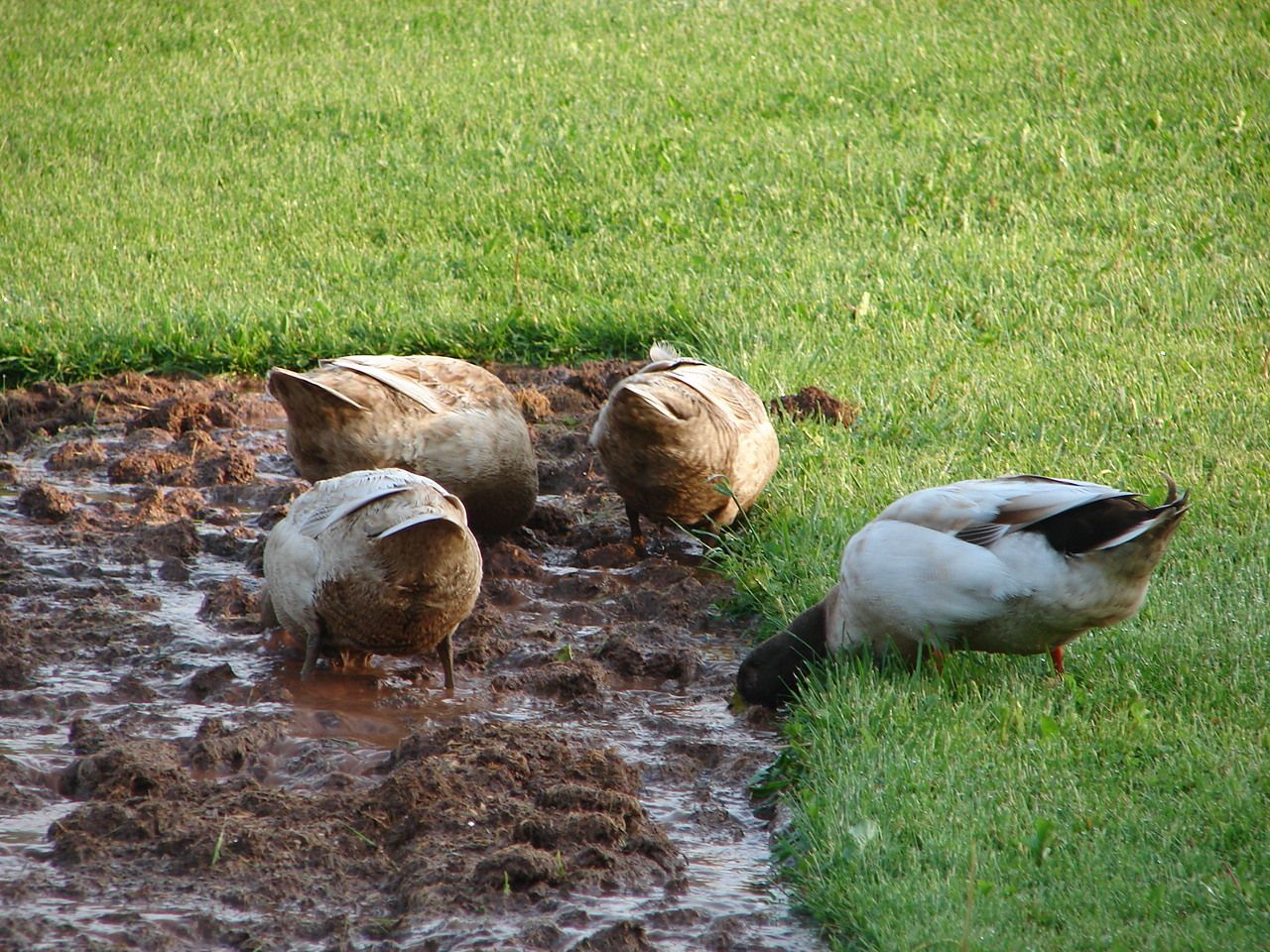 THEY DO NOT SCRATCH UP MULCH OR PLANT BEDDING LIKE CHICKENS EITHER, ALTHOUGH THEY DO POKE HOLE IN THE GROUND WITH THEIR BEAKS DIGGING THE GRUBS.
FREE RANGE EGGS…DUCK, CHICKEN OR GUINEA FOWL!!! BETTER TASTING AND MORE NUTRITIOUS!!!
FREE RANGE DUCK EGG NUTRITIONAL VALUE.
Nutritional Facts for Free Range Duck Eggs

CONSIDERED THE BEST EGGS FOR BAKING, the duck egg is nutritionally superior for eating too. IF GROWN FREE RANGE on the farm, THE NATRUAL WAY, LIKE OURS, the  eggs are farm fresh, no hormones, no antibiotics, no additives and naturally gluten free!!!
Higher in protein, calcium, magnesium, phosphorus, zinc, copper, manganese, selenium, thiamin, niacin, Vitamin B6, Folate & Retinol
Twice the amount of monounsaturated fatty acids (to lower cholesterol and LDL cholesterol)  while increasing HDL cholesterol (good cholesterol)
Twice as much potassium & vitamin A
Three times as much iron
Five times as much vitamin B12
More Albumen (protein in white) for more structure in cooking
---
Nutritional Facts –   1 duck egg     Calories 130
Calories from Fat 87%
Daily Value*Total Fat          9.64 g            14.8%
Saturated Fat                    2.58 g             12.9%
Cholesterol                       618.80 mg      208.3%
Sodium                              02.20 mg          4.3%
Total Carbohydrate        1.02 g                   .3%
Dietary Fiber                0.000 g                 0.0%
Sugar                                0*
Protein                           8.97 g                17.9 %
Vitamin A                                                  0.0%
Vitamin C                                                  0.0%
Calcium                                                     4.5%
Iron                                                           15.0%
Vitamin E                                                    1.7%
Niacin                                                         0.7%*
Percentage of Daily Values  based on a 2000 calorie diet 
I REALLY LOVE MY BABY DUCKLINGS AND ENJOY WATCHING THEM GROW!
I COULD GO ON ABOUT MY BABY DUCKLINGS, ADULT DUCKS AND DUCK EGGS ALL DAY BUT I THINK I'VE SAID ENOUGH. IF YOU WOULD LIKE TO HAVE SOME OR JUST WANT TO COME BY AND SEE THEM…PLEASE GIVE ME A CALL AT 336-449-9574. THANK YOU, PAUL!
I ALSO HATCH HERITAGE BREED RHODE ISLAND RED AND AMERAUCANA BABY CHICKS!!! IF YOU WOULD LIKE TO SEE THE CHICK PAGE CLICK HERE.
WE ALSO HATCH BEAUTIFUL ROYAL PURPLE AND AFRICAN WHITE GUINEA FOWL KEETS (chicks) AS WELL!!! IF YOU WOULD LIKE TO LOOK AT THEM CLICK HERE.
KHAKI CAMPBELL/PEKIN BABY DUCKLING PRICES ARE AS FOLLOWS:
NEW HATCH UP TO 6 WEEKS $8.00
7 TO 12 WEEKS $15.00
13 TO 20 WEEKS $20.00
ALL HENS OVER 20 WEEKS SHOULD BE LAYING AND ARE $25.00 
ALL KHAKI CAMPBELL AND PEKIN BABY DUCKLINGS ARE SOLD AS STRAIGHT RUN! I DO NOT SEX BABY DUCKLINGS! WHEN THEY GET TO ABOUT 13 WEEKS I CAN TELL WHAT THEY ARE AND THAT IS WHY THE PRICE GOES TO $20.00 FOR FEMALES. IF YOU WANT DRAKES (MALES) THEY ARE ONLY $10.00. IF YOU BUY 10 OR MORE FEMALES I'LL GIVE YOU A DRAKE. (MALE)